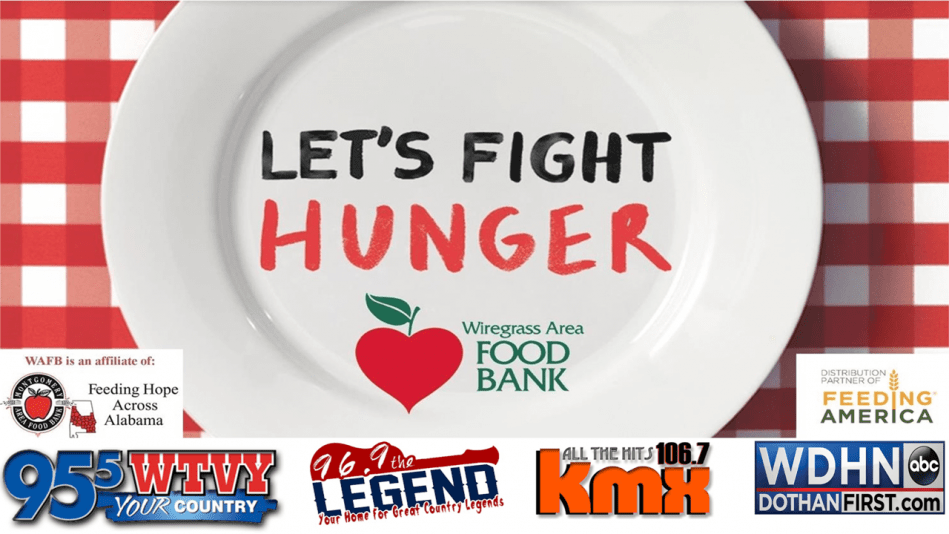 THE WIREGRASS AREA FOOD BANK NEEDS OUR
HELP NOW.  THE FOOD BANK HELPS STOCK FOOD
PANTRIES FOR MANY LOCAL CHURCHES. THE FOOD
BANK AND OUR LOCAL CHURCHES HAVE HANDED
OUT OVER 100,000 POUNDS OF FOOD TO THOSE
AFFECTED BY HURICANE MICHAEL IN ALABAMA,
GEORGIA AND FLORIDA.  AND NOW, THE SHELVES
ARE ALMOST BARE AT OUR L0CAL FOOD PANTRIES.
YOU CAN HELP BY BRINGING NON-PERISHABLE
FOOD ITEMS BY OUR STUDIOS IN DOGWOOD
COURT AT 3245 MONTGOMERY HIGHWAY DURING
REGULAR BUSINESS HOURS.   LET'S RESTOCK THE
SHELVES AT THE WIRGRASS AREA FOOD BANK WITH
WDHN NEWS 18 AND YOUR COUNTRY 95 FIVE
WTVY!