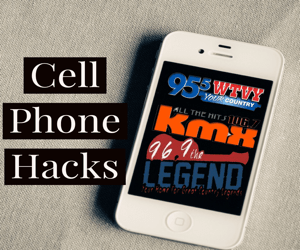 QUICK CELL PHONE HACKS THAT MAY GET YOU SERVICE IN THE PANHANDLE
WE HAVE CONFIRMATION THIS WILL WORK FOR SOME PEOPLE AND OTHERS MAY NOT BE ABLE TO CATCH A SIGNAL.   IN ORDER FOR THIS TO WORK YOU NEED ANOTHER TOWER NEARBY IN OPERATION AND YOU MUST POWER OFF YOUR CELL PHONE AND REBOOT YOUR PHONE.
IPHONE USERS
FROM HOME SCREEN GO TO SETTINGS
TAP CELLULAR
TAP CELLULAR DATA OPTIONS
TURN ON ROAMING
REBOOT YOUR PHONE
DROID USERS
FROM HOME SCREE, NAVIGATE TO APPS ICON > SETTINGS > MORE
TAP CELLULAR NETWORKS
TAP DATA ROAMING ACCESS
YOU WILL SEE THREE OPTIONS:
DENY ACCESS, ALLOW ACCESS FOR THIS TRIP AND ALLOW ACCESS FOR ALL TRIPS.  SELECT ALLOW ACCESS FOR ALL TRIPS
TAP OK
REBOOT PHONE
HOTSPOT FOR WIFI
ANOTHER OPTION FOR PHONE SERVICE.  IF YOU KNOW SOMEONE HAS SERVICE.  HAVE THEM CUT ON THEIR HOTSPOT ON THEIR PHONE.  TURN ON THE WIFI ON YOUR PHONE AND YOU SHOULD BE ABLE TO SEND LIMITED TEXT AND LOG INTO SOCIAL MEDIA.  IPHONES WILL ALLOW FACETIME CONNECTIONS.
IF YOU NEED THESE INSTRUCTIONS TEXT THE TAKE OUT STAR TEXT LINE 1-855-599-9889
SIMPLY TEXT THE WORD "IPHONE" OR "DROID" FOR AN IMMEDIATE RESPONSE.